Rec Specs PPE
We have Rec Specs high performance, REUSABLE PPE goggles and glasses for Healthcare Professionals available immediately.
Rec Specs have been relied upon by professional and amateur athletes for protection, vision stability, and endurance and these same characteristics are why this is also a solution used for decades by healthcare professionals.
Contact us today to outfit your teams with Rec Specs PPE. Plano and Rx options available.
Each order of RecSpecs comes 10 per pack. Each pack with assorted sizes small, medium and large. We can ship direct to your facility, office, or building. - $600 per pack
Please ask about adding prescription lenses, single vision options available for just $30 more per pair.
Call for details: 732-300-8020
For additional resources, follow our social media pages for daily content that you can reshare: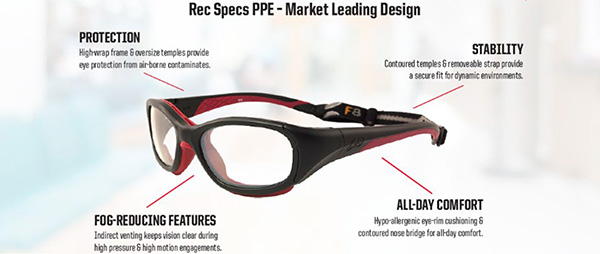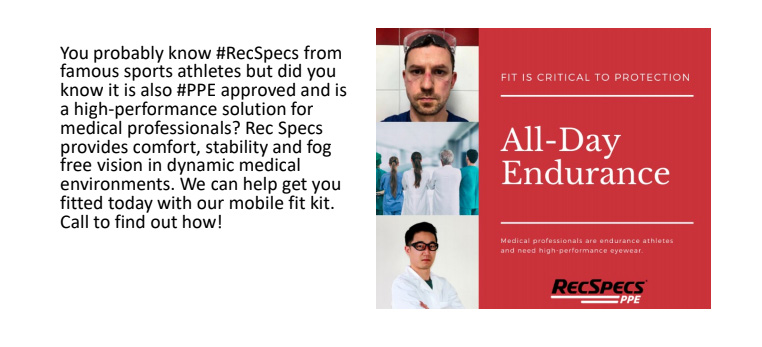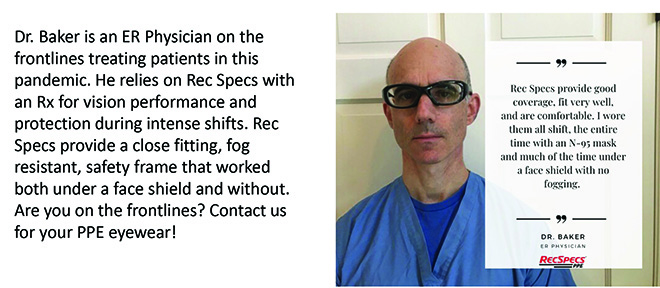 Additional Info
To request an appointment, you can call us or fill out our form and a member of our staff will be in touch with you.
Below are the Medical History and Privacy Policy forms you'll need to complete on your first visit. You can expedite matters by downloading these forms, completing them at home and handing them to our staff when you arrive for your initial visit to our office.
Patient History Form
HIPPA Form

In order to view or print these forms you will need Adobe Acrobat Reader installed. Click here to download it.

We accept Visa, Mastercard, American Express and Discover credit cards. We accept many major insurance plans including Medicare, Horizon, BC/BS of NJ, Aetna, Cigna and many others. To find out if we accept your plan, please call our office.